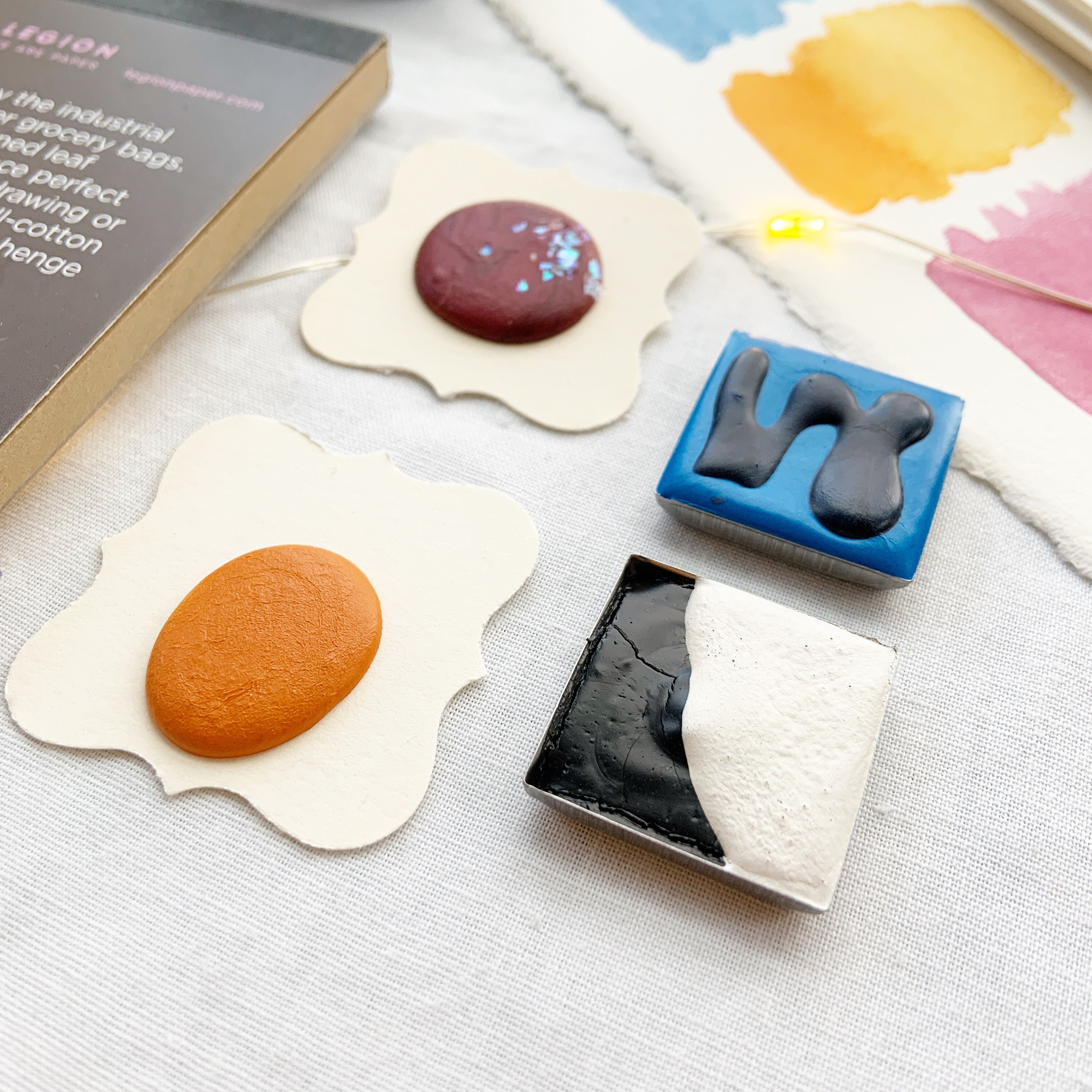 The idea for the Ruby Mountain Inspiration Box has been in my brain for over a yer now, and I am thrilled to finally be able to share it with you! Introducing the Ruby Mountain Inspiration Box, a seasonal box of both handmade and commercial  art suppies, designed to inspire you to create more art. This box is designed to be a unique treat for yourself (a wonderful addition to your self-care routine) or a gift for a special artist in your life. Read on to see what is in the Winter Box!
This month I am spoiling the surprise a little bit so you can get an idea of what to expect. Usually the contents of the box will be a surprise, with only the color and theme shared. 
This Winter Inspiration Box  focuses on a black/blue/purple color theme with hints of bright orange and magenta, to go along with a celestial winter sky theme. This winter box contains:
-2 metal half pans of handmade watercolors
-2 XL dot cards of handmade watercolors
-1 Derwent water solubale pencil in 6B
-1 container of Ruby Mountain Magic Pigment~Salt Sprinkle
-3 blank watercolor greeting cards with envelopes
-1 mini pad of Stonehendge Kraft paper
-washi tape
-an Inspiration sheet with ideas, tips and info about your new supplies
-a few extra surprises!
The Inspiration Box is a box full of art inspiration, in both supplies and technique/subject matter ideas. Four brand-new Ruby Mountain handmade watercolors (2 metal half pans and 2 XL dot cards) are paired with an inspiring array of art supplies and materials. An Inspiration Guide is included to explain the products in the box, explain how to use them, and then it provides you with tips and  ideas for your art making. This box is geared towards a mixed-media style of watercolor painting/journaling. The supplies will be suitable for a variety of applications and purposes, including traditional watercolor applications, collage, and mixed media artwork. This Inspiration Box will come out four times this year, in celebration of each season. Along with the four new Ruby Mountain watercolors, you may find paper samples, collage items, drawing supplies, brushes, inks/potions, stickers, washi tape, and other goodies. This is not a subscription box, and you will have the option of order each box during a special pre-order time.
The Inspiration Box will be available for purchase each season (four times a year). It is NOT a subscrption box, and each box must be ordered individually. Pre-orders will open up for a limited amount of time. Once they sell out or the ordering window is up, boxes will be prepared and sent off to you. These Winter Boxes will be shipped the week of Feb. 10. 
The Ruby Mountain Inspiration Boxes are designed to be a special treat for you, to inspire you to try new supplies, try new color combinations, and encourage you to explore your creativity in a playful way! The Winter Inspiration Boxes are now available for preorder by clicking here. Winter Inpsiration Boxes will be available for pre-order through January 23, and will ship the week of February 10th. 
Click here to pre-order your box.